Hotel Introduction
"GAYA" is the aboriginal Atayal language, which means "to inherit the wisdom of the life from ancestors and enrich the connotation of modern life." The hotel's logo is composed of four letters GAYA, the blue G represents the sea, the yellow A represents the land, the red Y represents the humanity, and the green A represents the mountain, symbolizing the core of THE GAYA HOTEL and Taitung culture.The hotel was formerly known as the old Taitung Taxation Office. At that time, due to the hot and humid climate of Taiwan, the hollow brick design helped ventilate the building. The building was nicknamed the "Dongdong" The Modernist Style after the Japanese. After its demolition, The Gaya Hotel tried to rebuild and retain the original " Hollow " building elements, into the architects to pay tribute to Lu Yu, so that the construction and the history of sustainable spread.
Tel:089-611888
Hotel Address:No.169.Xinsheng Rd,Taitung City,Taitung County 950,Taiwan(R.O.C)
Room Introduction
Spend the night in the tranquil place in downtown. Absorb the sunshine and the power of east coast line. Refill the energy and start a brilliant day.
Leisure Facilities
The infinity pool on the top of hotel allows traveller to enjoy the view of Taitung while swimming.Location: RooftopPool specifications: 19.6 meters long, 5.3 meters wide, 1.2 meters deepRemarks: You need to bring your own swimming gear, swimsuit, swimming capOpening hours:[Summer] May 1st to October 31st 07:00AM-12:00AM / 01:00PM-09:00PM; [Winter] November 1st to April 30th , 08:00AM-11:00AM / 03:00PM-09:00PMGym is at the 3rd floor.Location: 3rd floorEquipment: flywheel, treadmill, heavy trainerRemarks:Please wear light cloth and sports shoes. For your safety, children under the age of 12 are prohibited from entering the gym.Opening hours06:00AM~09:00PM
Restaurants
U-Ra Cuisine develops local-style meals with seasonal ingredients. There is a VIP Room fit up to 16-20 people and VIP Room fit up to 6-10 people, with the Fine Dining and Fine Drinking service modes. Expertise the highest standards of service quality to make visitors feel at home.Business hoursLunch 11:30~14:00. Dinner 17:30~22:00Last order: 21:00
Peripheral Scenes
Located in the city of ​​Taitung, facing the Liyu mountain park and the lookout Pacific Ocean
Directions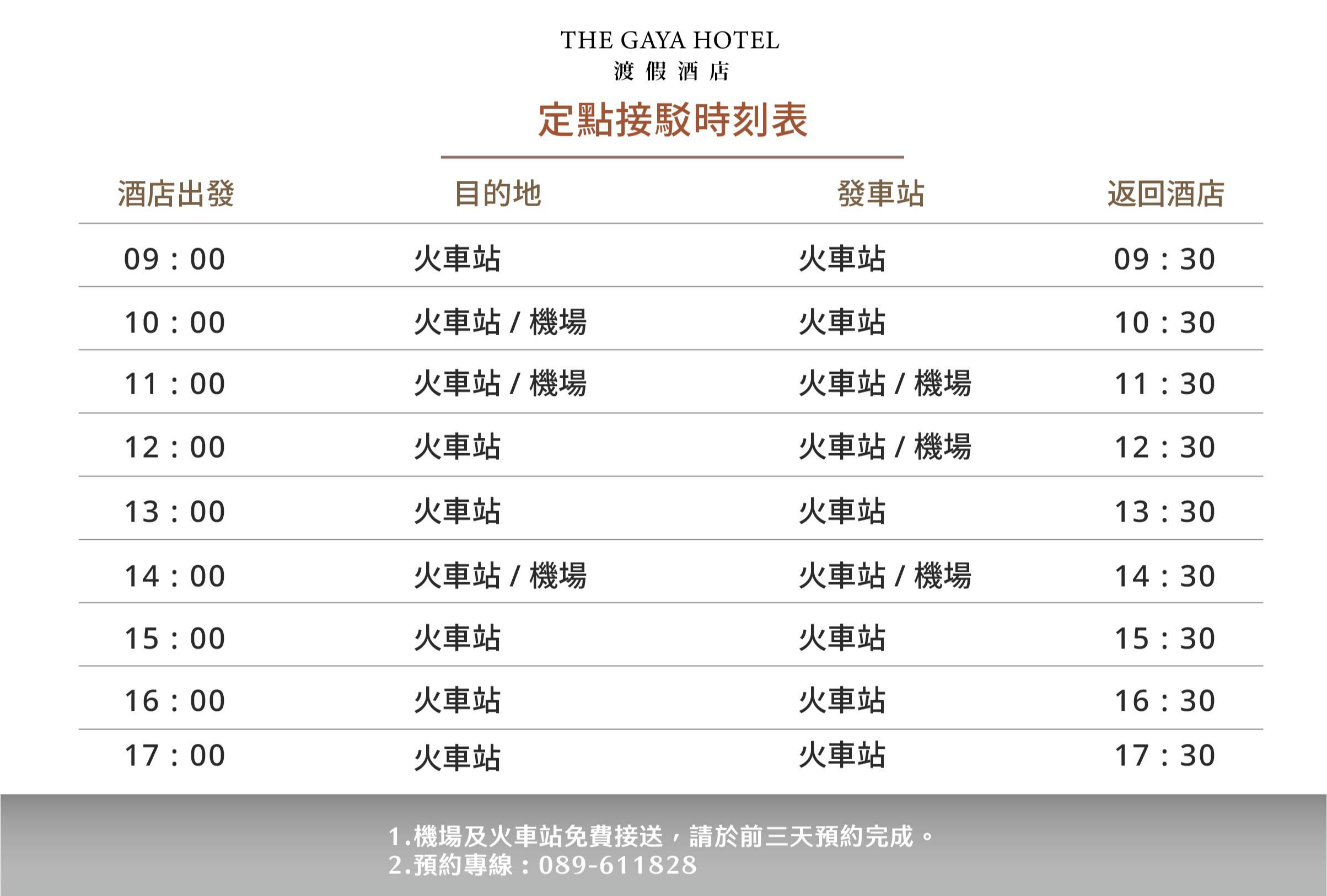 Address:No.169, Xinsheng Rd., Taitung City, Taitung County 950, Taiwan (R.O.C.)THE GAYA HOTEL has become a cultural and humanities hotel that surrounded by cultural and creative attractions such as Elite Taitung Store, Blueprint Market, andTiehua Music Village.By airplane: ★Taitung Airport→Taxi or Hotel Shuttle Service→The Gaya Hotel★Taitung Airport→Puyuma Bus(TTB City)/Dingdong Bus(8128)→Taitung Bus Station→Walk Through The Tiehua Music Village(approx. 5 min.)→The Gaya Hotel