Hotel Introduction
The resort is located at the spectacular scenery of the famous Yushan National Park, surrounded by unexplored forests, the unpolluted fresh air, clear creeks and the untouched wild animals.Hotel Tilun Tonpo Spa located on the foot of Wangshan Mountain, its the county of Hot spring and Aboriginal Bunon Tribe.
Tel:049-2702789
Hotel Address:NO. 86 , Tungpu, Nantou County
Directions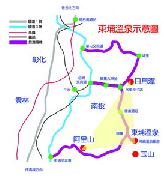 Chiang Kai Shek International Airport.......200 kms.Taichung City Center.......................85 kms.Take an international flight to Chiang Kai Shek International Airport.Take a bus or train to Taichung Station.